Dress to Attend a Simple Graduation but Beautiful and Still Charming
Graduation is a very happy momentum for someone named the student. Because graduation is the final sign of the completion of the struggle on the lecture bench. Well, as someone who is going to attend a graduation event, especially as a graduation companion, of course, you have to choose Graduation dress that fit the momentum of graduation that is sacred and formal.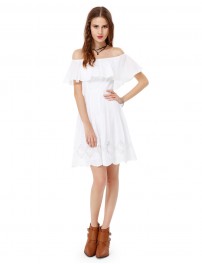 You don't know what you want to wear to attend graduation? Confused if you want to look formal but afraid to say tacky? Don't need to be confused, dear! Here are the dress tips to attend graduation.
Choose Dress that Absorbs Sweat
Graduation takes place not only 1-2 hours but lasts from morning to noon. Not to mention the condition of the room that had been air-conditioned suddenly became hot because of the many people who were in the room. Not to mention after the graduation procession ended, there are still other stages, namely the photo session. Well, in this session you are required to still look beautiful, you can't sweat dear.
When choosing dress to attend graduation that need to be considered is the type of material used. The material that should be chosen is a material …